That I've already had the virus. Since I don't know if I'm still shedding, I'm staying indoors anyway. I do feel physically better than I did last week in almost every way, although psychologically…. I mean people looking at Hitler couldn't believe him, because he was so outside the norm of politicians, and now I'm pretty much the same with the Orange Twitler. My disbelief keeps hanging me up. I want to wake up. There is no waking up. There is only living through this.
Nathan Vincent's 'Manly Doilies' (there are others, have fun)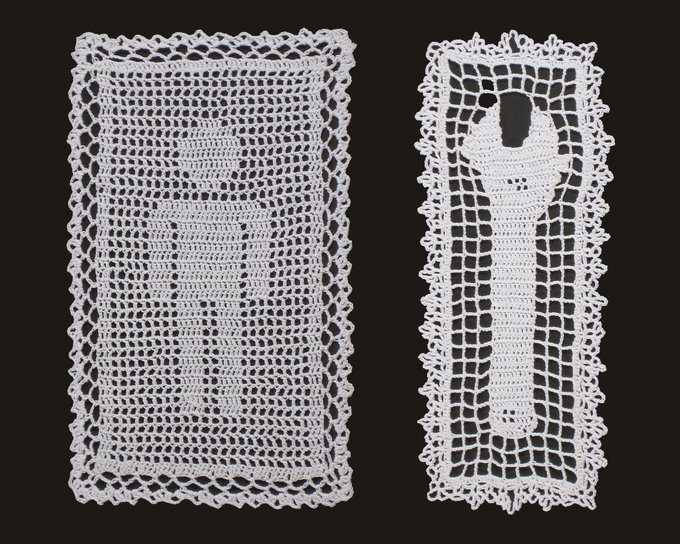 Helen Branswell, one of my twitter gurus since Ebola (she's Canadian, makes sense, lives in Boston, good science writer) has a thing or two to say.
I hope that the health care workers get more PPE soon.
I have a horrible horrible feeling in the pit of my stomach, that this time next year most of the disabled people I follow on twitter will be dead and I'm pre-crazy with grief about it because they've taught me so much and I've only made donations to a couple of them.
I did donate to anti COVID efforts on the DTES yesterday.
In other news, snitch-taggery rhymes with douche-baggery.
England is changing who is being assigned as cause of  death coronavirus on the basis of three of the flimsiest reasons
my email of today to some fuckwit at Kent State U whose name I shall redact. It is a variation on the modern standard: Were you FUCKING HIGH??
Are YOU the dean who sent out an email this week…..
demanding that your staff ACCELERATE THEIR RESEARCH during a pandemic which has forced every academic into distance learning?
If so, I would like you to tell me what you've been prescribed that makes you so disconnected from reality. I would like to provide the name of the drug, or drugs, to my physician, as damn, they seem to be working well.
If not, perhaps you can pass the message along to senior officers of the university that demands like that are ludicrous, insensitive, unrealistic and are NOT going to look good on anyone's academic resumé.
Yours truly,
Allegra Sloman
Vancouver Canada
Tom Humberstone drew this for The Nib this past week: