TFW you want to boast on social media about a gaming accomplishment — but the real point is that it would be virtually impossible for someone with early onset dementia to do what you just did. I broke 5 minutes, I broke 5 minutes AND took 20 seconds off my most recent record. yay Sherlock, my favourite puzzle game for MORE THAN 30 YEARS.
I was supposed to write somebody a letter today…. I'm going to clutch the negligibly small sore spot on my flu shot arm and plead that all I want to do today is vote. Also, there are leftovers, I got mild peri sauce Barcelo chicken yesterday and I found it absolutely delicious.
Various physical signs in my body indicate that my liver is much happier with me eating less carbs and sugar. I still don't have any way to check my blood sugar. A diabetic friend is really happy with her implant (she's lost weight in a healthy way, she has needle-like accuracy on her sugars) but I'm hoping to turn the boat around still, so we'll see.
I reviewed my schedule of habits to develop and I think for the next week I'm going to concentrate on drinking enough water. So every time the clock shows a multiple of three, I should drink a third of a litre of water at minimum, and make less than half my daily liquid consumption tea. Let's see if I can get this habit established! I'm very well established with an evening routine, so I'm happy about that, and I've also stopped looking at the computer at bedtime, which means sleep starts faster and I'm not doomscrolling right before bed.
In the morning, the wifi doesn't talk to my laptop from 4 am to 7 am. I get much more done in terms of writing, editing and letter writing now during that period since I'm not making myself unpleasant on twitter the entire time. That's usually the time I mail the letter, if I leave the house for that purpose.
Murder hornet found in BC. How jolly.
Okay I'll be thinking about this one for a while: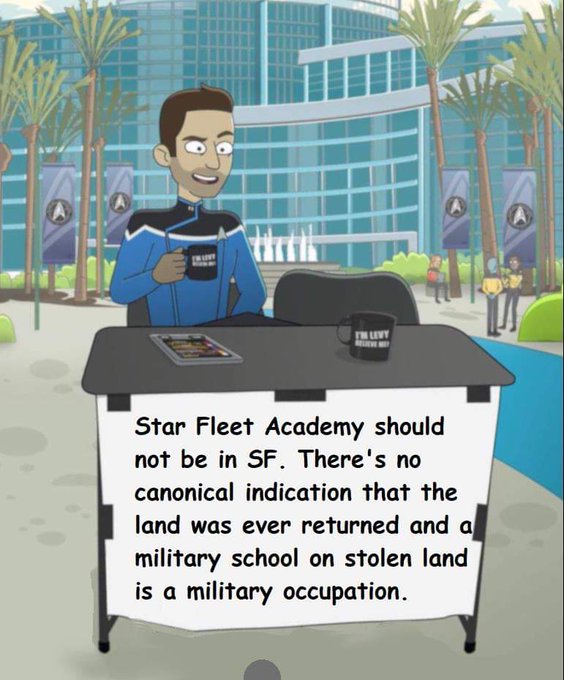 text accompanying a 'Lower Decks' graphic: Star Fleet Academy should not be in SF. There's no canonical indication that the land was ever returned and military school on stolen land is a military occupation.