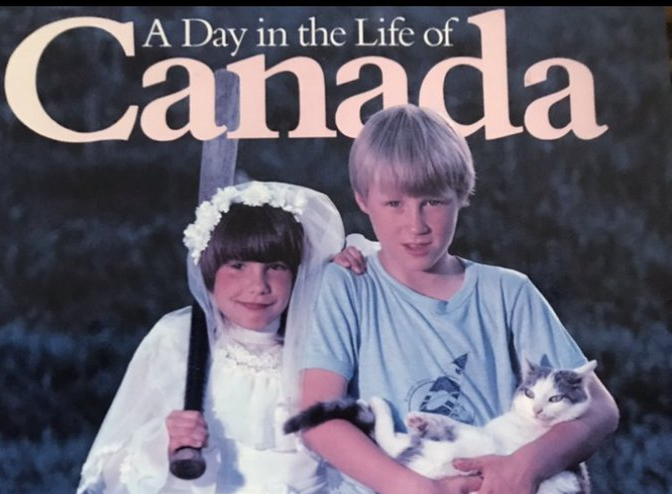 this coffee table book is currently trending on Twitter
mOm and pOp of course recognize it – it's been floating around their living room since the year it was published. At the time, the concept did not exist – that hundreds of photographers, professional and otherwise, were supposed to go forth and take a picture on the same day for curation and collection as a snapshot of the zeitgeist.
Since then, dozens upon dozens of books have been published along this theme, for dozens of countries. This kind of omnibus album became popular.
People have been posting pics from inside the book and making hilarious, occasionally anxious comments about them. It's great. And that poor cat. And what is the baseball for? is she going to talk to the priest about his handsiness? it looks like a confirmation dress…
and Canada, it was qwhite something then
Also from social media, figureoutthesea AKA Nicolas Demers on Instagram took this at Deer Lake – quite the action shot eh??? He has tons of amazing bird photos, the abovenoted link goes to his blog with better res pics hint hint mOm.
THE INTERNET HAS A CAT AND IT PURRS headphones or good speakers required.
Me singing "Buy me a beer" at the company Christmas party when I dyed my hair and was still employable.
Lots of Laundry yesterday. A couple of months back I instituted Jeff and I using different hand towels to dry off after we wash our hands, trying not to pass any illnesses that come into the house off to each other. True that COVID is virtually never transferred off objects, but there's still tons of shit that is hand transferred, especially foodborne stuff.  It adds about two minutes to my laundry duties cause there are two washrooms and we both use both of them.
Also, Jeff installed a bidet downstairs. I have dubbed it Neptune's kiss.
Watching the new Perry Mason show, finding it quite entertaining and better set up than many, many prequels.
Stayed up late last night, I have no idea why. I feel kinda bleary this morning.
Calling the doc tomorrow, trying to start this whole test thing up again.
My new mattress has arrived. I need to open up the box and let it offgas for a while.