that's what's forecast between now and Thursday night (it's midnight Wednesday now.) We definitely need more salt,  but I'm not shovelling until 6 am. It's East Burnaby so we'll probably get 1.5 times the forecast.
mOm very kindly put cousin Laurel on the phone yesterday so I got to talk to her. There's been a death on the inlaw side of the family and it coincided with the worst of the ferries and roads, so she's had an adventure; this is also the week her husband turned seventy. Much sadness about the new normal. Supporting the recently bereaved is a beautiful challenge though.
Anyway, I woke up dizzy, a horrible feeling, got up and peed, sat up and now I don't actually feel fine but I could probably go back to sleep. I should, I only got four and a half hours…. Read on line, I'm probably dehydrated or have low blood sugar…
No I did not go back to sleep I made coffee.
55073 HOTM
It's been weeks, but every time I think about that piece of grafitti in Ultraviolet "Czirny fans get sick notes from their drug dealers" I crack up all over again. Czirny was a made up football team for Łódź which is pronounced wutsch.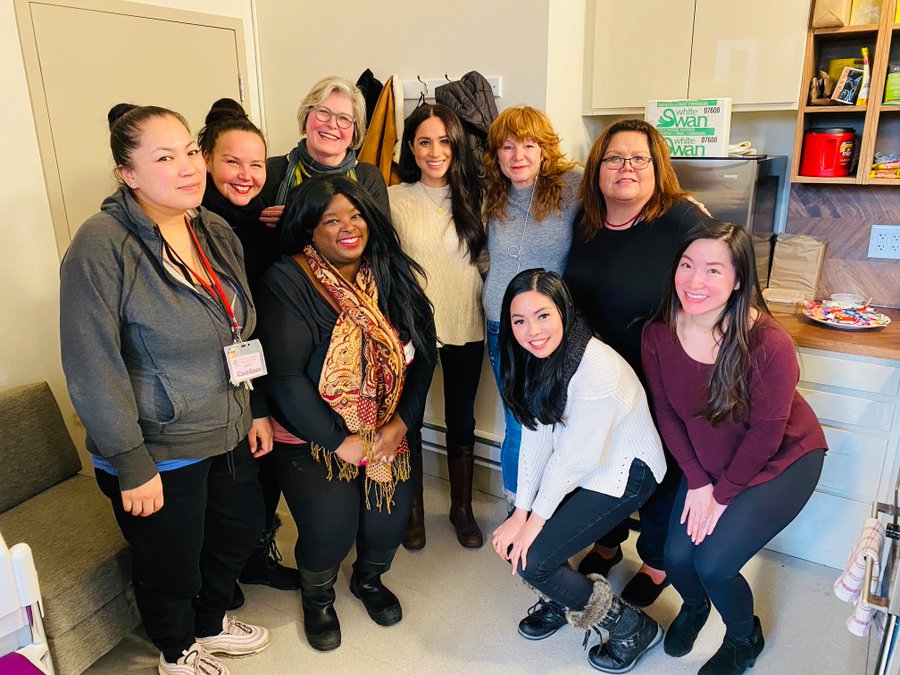 the Duchess of Sussex is out and about – shown here at a women's centre in Vancouver yesterday AND NOT WEARING A DRESS lawks
I MEAN IT'S WONDERFUL but TERRIBLE and EXPENSIVE like 10 million dollars of extra colonial expenditure and all we really care about in this household was her gig on the TV show Suits. I feel sorry for Harry, although not for his choice of bride.
Environment Canada says Howe Sound is going to get wind and snow something awful so it's a good thing Laurel's not travelling today.
HA HA HA HA STEFAN MOLYNEUX that unregenerate Nazi sockwad has been cut off from Mailchimp so his list of 70K asshole supporters is no longer his. LOLOLOLOL excuse me cough cough.
I sent mOm a couple of links about a former colleague….
LATER THAT MORNING
Alex' school's closed. Katie is staying home. I did volunteer….
Later, around ten after seven
All the schools in the lower mainland are closed. There is not a snowball's chance in a foundry that I could have made it to Victoria today without considerable horror.