It's by no means guaranteed, but we are probably going out for breakfast with Katie and Alex this morning. LATER YES IT IS GUARANTEED they will be here to pick us up in 20.
I got almost eight hours of sleep last night. It was absolutely wonderful. I definitely sleep better when it's cold in here.
Cousin Alex is not having a good time sleeping these days. Well do I remember my early fifties and I probably have dozens of blog posts complaining about how much I sweated….. menopause is hard, but most of the parturition crowd would say it's eventually worth it. Don't forget the Replens, it makes a huge difference.
Feetsball today. Jeff will be thinking of our pOp.
Wrote lots yesterday, trying to get a fic finished.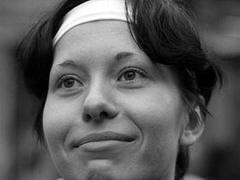 This is Anastasia Baburova, murdered a decade ago by fascists. She was a student anarchist and journalist. I think she was one of my people… does she look like a Scythian warrior woman to you?
I have learned not to immediately respond to news on Twitter. If it's accurate someone smarter will have a better assessment and if it's not you've not made a fucking idiot out of yourself at least more than normal.